NEAX2400IPX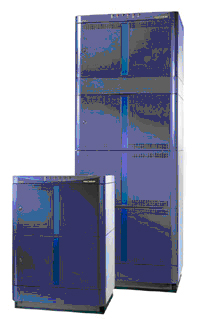 In today business world, every advantage is crucial. Your technology needs to do more, cost less, and most importantly, it needs to be flexible. With this in mind, NEC Business Solutions has designed the UNIVERGENEAX®2400IPX: its most advanced NEAX yet. With modular units that allow easy expansion to more than 24,000 ports and with a robust structure that can handle anything you throw at it, the UNIVERGE NEAX®2400IPX is a leading business communications solution. The system is enhanced to accommodate the widest possible variety of terminals and services including VoIP, SIP and Wireless LAN. The UNIVERGE NEAX®2400IPX system still supports all of your traditional services and handsets. You can choose a mixture of traditional handsets, services and IP, or run it as a full IP peer-to-peer switch. Whichever option you select, you will enjoy full access to all of the NEAX systems hundreds of service features.

So, whether your business has remote offices, contact centers, or simply handles high volumes of telephone calls, the UNIVERGE NEAX®2400IPX is the efficient, cost-effective, reliable solution.
Key Features
UNIVERGE NEAX®2400 Internet Protocol eXchange (IPX)
The rich array of features included in the UNIVERGE NEAX®2400IPX allows you to get the best from your network infrastructure and communicate better. Whether you choose hybrid or pure IP deployment, you will enjoy full access to the hundreds of NEAX features and NEC's renowned reliability.

ISDN (Integrated Services Digital Network)
The UNIVERGE NEAX®2400IPX fully supports a digital carrier service for phone, fax and PC, enabling you to dial in to your extension direct and support voice and data multimedia applications. With ISDN you have access to caller identification, malicious call trace, and advice on call charges and potential savings on tariffs.

Least Cost Routing
You could save thousands of dollars on call charges each year as the UNIVERGE NEAX®2400IPX automatically selects the best and cheapest carrier route available for your call, at any time of the day.

CCIS and FCCS
The UNIVERGE NEAX®2400IPX automatically reconstitutes any multiple links between common points, freeing up the availability of equipment to perform other functions.

Dterm IP Health Check Function
By performing status checks against connected terminals, the UNIVERGE NEAX ®2400IPX can give itself an instant diagnostic. If a fault is found among the terminals, the system administrator is alerted.

Traffic Measurement
The UNIVERGE NEAX ®2400IPX provides sophisticated traffic management reports and overall analysis of system performance. The MAT (Maintenance Administration Terminal) functions as a system interface and is used to request and display the type of report, measurement time period and time increments of reports. Traffic reports can be produced by assignment on the IPX, which will provide such information as:
Terminal traffic
Route traffic
Station peg count
Attendant console peg count
Route peg count
Service feature peg count
UCD route peg count
UCD Group Peg Count
UCD Station Peg Count
Bandwidth Control
Assigns maximum bandwidth on a location ID basis to ensure consistent voice quality is maintained.

Peer-to-peer Switching
Provides support for true peer-to-peer IP switching (IP to traditional and vice versa), and is capable of handling more than 32,000 'busy hour' call attempts.

Facsimile IP Control
Enjoy the flexibility of being able to change payload size and jitter buffer when connecting to fax machines.

Reach Further With Wireless
Liberate yourself from the desk. NEC UNIVERGE wireless systems give you the functionality of your UNIVERGE NEAX 2000 IPS anywhere that you connected to your Wi-Fi network.
Benefits
Features That Work for You
UNIVERGE NEAX ®2400IPX users have access to more than 700 service features that can enhance user productivity, reduce operating costs, and improve communication efficiency. In addition, the control, network and interface of the system can accommodate features, services and subsystems as required by specific applications.
One Network
The UNIVERGE NEAX ®2400IPX offers business, industry, hospitals and hotels the ability to access an extensive array of information processing and management services by serving as the central controller of an integrated information network. The UNIVERGE NEAX ®2400IPX reflects the philosophy of NEC to integrate data and communications technology, which can provide many voice and non-voice services.
Energy and Space Savings
Through the use of state-of-the-art technology in the system circuitry design, NEC has been able to reduce power consumption. As a result, the current consumption of the system has been reduced to less than that of many other conventional electronic PBX systems. This energy-saving design allows for the use of much smaller capacity main power equipment and air-conditioning equipment. In parallel with the energy savings, the space requirement for the system has also been reduced when compared with that of a conventional electronic PBX system.
Flexibility
Whatever your needs, the UNIVERGE NEAX ®2400IPX will meet them. Innovative modular design allows the PBX to efficiently serve from 384 ports to 24,576 ports - the system can be expanded from its minimum configuration to its maximum capacity as the need arises. This allows your system to grow with your requirements in a cost-effective manner.
Redundancy
The basic design philosophy of the UNIVERGE NEAX ®2400IPX is to provide redundant capacity for all critical circuitry such as processors, control circuitry, memory, switching network and power. By providing this redundancy, NEC is able to offer a highly reliable system with an extremely high grade of maintainability and sophisticated fault diagnostics. The UNIVERGE NEAX ®2400IPX has all the inherent reliability required to control network integration services.
High Reliability
The UNIVERGE NEAX ®2400IPX is designed and manufactured to provide high-availability of the system. It is designed with such features as; remote maintenance, distributed call processing, error-correcting memory, equipment redundancy, battery backup, self-testing and automatic system alarm indications to ensure reliability. Only quality components have been used. In addition, through the employment of LSI and custom LSI and VLSI technology, the number of component parts has been greatly reduced, thus lessening possible failures and ensuring continuous operation.
Ease of Installation
Because the UNIVERGE NEAX ®2400IPX uses pre-assembled modules and plug-in type circuits packages, it is easy to install. Internal and external wiring connections are made through simple-to-use standard plug-ended cables. In addition, with each unit and system having been fully factory tested prior to shipment, potential installation obstacles are kept to a minimum.
Ease of Maintenance
Since the system is constructed with high quality components, reliability is assured and operation is kept to an industry high standard of 99.999%. However, should a fault occur, the self-diagnostic programs will detect the fault, and automatically record the details. If the problem is beyond the internal correction capabilities of the system, the self-diagnostic programs will send notification of the fault and the involved unit to the Maintenance Administration Terminal. The alarm display panel provides additional notification of any errors detected. The faulty unit can then be quickly identified and rectified, causing little or no interruption of service.
Future Capabilities
Because the UNIVERGE NEAX ®2400IPX uses a stored program control, performance enhancements and new features can be easily incorporated by simple changes in software. This means that the system will remain up to date for as long as possible, protecting your initial investment. 

Cost Controls
As telecommunications costs rise, it is increasingly important for organizations to control them. The UNIVERGE NEAX ®2400IPX makes it possible for you to get a firm grasp on your telecommunications costs. Through the use of such features as least cost routing, class of service and station message detail recording, cost reduction and controls are possible.