Video Conferencing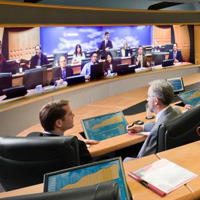 With video conferencing technology, two or more people in different places can communicate by sight and sound at the same time and even share computer applications. The benefits of video conferencing systems for educational institutions and libraries include formal instruction, communication with guest speakers, collaboration in projects between schools, professional activities, and community events.
Using video conferencing equipment to make a call is very similar to making a telephone call. When connected, you see the other person on a colour TV screen and as mentioned, may be able to transfer files or share documents.
Video Conferencing Equipment and Systems
High-quality video conferencing can be achieved at a reasonable cost thanks to modern compressed video systems. The set up of a video conferencing system involves audiovisual equipment such as a monitor, a camera, a microphone, and a speaker. In addition a means of transmission such as a phone line is also needed.
Video conferencing equipment uses a dedicated connection to ensure smooth transmission of sound and picture as opposed to internet connections employed by webcam users which have to share their connection bandwidth with other internet data.
Both ISDN (Integrated Services Digital Network or the average phone line) and IP (Internet Protocol or internet lines) can be used to transmit video conferencing calls. Both are an economical solution for achieving the highest quality in video conferencing.
Video Conferencing Connections
The method of transmission has the most significant difference impact in video conferencing systems. Two video conferencing systems must be using the same transmission method to ensure connection and transmission. As mentioned above, the two video conferencing methods are ISDN or IP lines. In recent years, most video conferencing systems were connected via ISDN lines but in now many people are switching to using IP connections due to the savings in cost. If a video conferencing call is needed between two units using different transmission methods, an item called a bridge must be used to handle the different protocols. Video conferencing calls using ISDN lines have the limitations of being dedicated to only one videoconference and CAN incur long distance call charges. In an IP video conferencing call, the bandwidth of the connection can be used for multiple purposes and an IP connection can take up to 6 phone lines.
The Benefits of Video Conferencing
Many professionals in the educational sector have reported that video conferencing can affect students in a number of ways. Observations have been made that two-way video conferencing can heighten a student's motivation improve presentation skills and increase communicative abilities. In addition, "virtual" field trips help increase the depth of learning and allow a greater connection with the outside world.
Video conferencing can also improve memory retention by using a variety of different learning mediums such as video, graphics, animation, and computer applications. Through video conferencing, many educational institutions are finding ways of connecting to their students in ways not previously possible with e-mails, telephones, or online chat rooms. The visual aspect of video conferencing and interaction possible among participants enhances understanding and allow both the teachers and students to feel in touch with one another.